Higurashi no
Na

ku Koro ni Reading Guide

If you are here looking for my Higurashi restoration project, it now is officially cancelled. Not because I bit off more than I could chew -- I believe if one man could write and draw it, one man could edit it -- but because I myself have not been well for a long time and have too many other focuses which I have been neglecting also. It pains me to leave Higurashi the way it is when I had its perfect realisation all planned, but at least all the work I did on it those years ago taught me almost everything I now know about what I do. I will be updating this guide at some point to make it easier to get hold of the game(s) and get everything running. Until then, thank you.
Which Version?
This guide pertains only to the 2009-2010 MangaGamer translation, hereby called the old release. The English is awful and the quality control nonexistent, but it is often found to be more accurate than the recheck, which is the 2015-2020 version currently found on Steam, GOG, and the MangaGamer store--hereby called the new release.
What Needs Patching
Both complete English translations have replaced all music and sound effects, mainly due to licensing and quality. The new release can have both patched by 07th-Mod, but those patches are more geared toward modifying the game away from the original version, replacing backgrounds and sprites, which is unacceptable. Many readers end up with the wrong things patched, or worse yet, pre-patched downloads with the graphics already replaced. This guide is only for the sake of patching the old release to be as decent as currently possible, with information and files partly obtained from the Tweaking Higurashi Wiki.
Where to Begin
Now, assuming you have unpatched folders of the old release, whether from the Rutracker post When They Cry, 2, 3, 4 or elsewhere, you should now have Higurashi 1-4 as one game program, and Higurashi 5, 6, 7, and 8 as separate game programs. Extract all of these to their own respective folders wherever you keep your visual novels, and each folder should look something like this: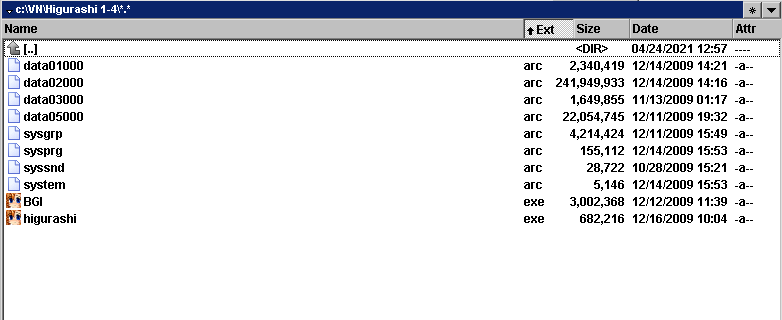 Patching 1-4
Go ahead and download the following:
The aforelinked sound patch does not cover all sound effects, as replacing them all causes the engine to crash. For those whom it concerns, here is the complete, broken patch.
Drag and drop the files from h4lp.7z\h4lp (NOT the folder itself!) into your Higurashi 1-4 game folder.
Next, drag and drop the files within HigurashiSoundPatchv4 into your Higurashi 1-4 game folder. The game is now ready to play.
When you're all done, your 1-4 game folder should be a whole mess of files, like so: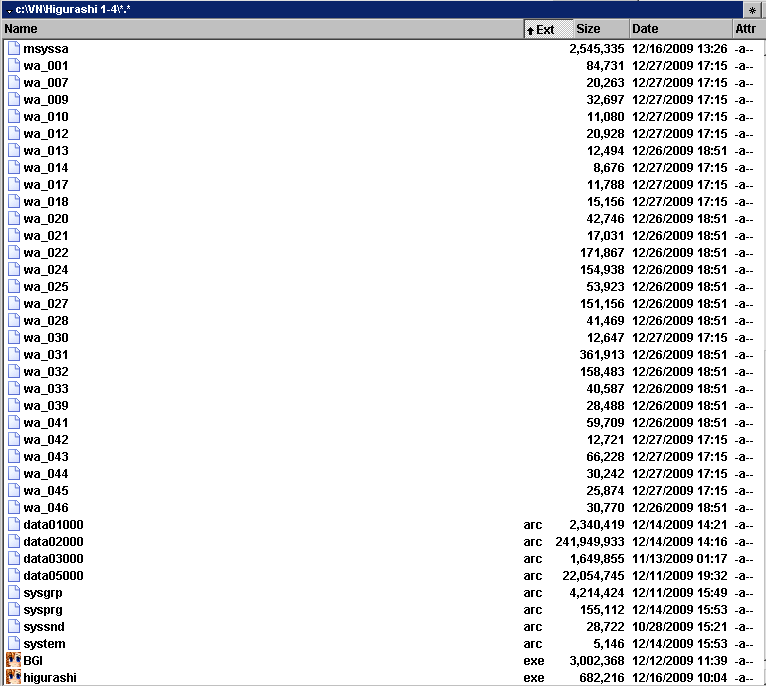 Patching 5, 6, 7, and 8
These arcs, referred to as Answer Arcs, were most commonly distributed as separate game programs, which is why that is the only manner of release supported by patches. Download all of these first:
There are no sound effect patches for these arcs in the manner that 1-4 had, but some or all of these music patches include a few original sound effects. One notably obnoxious script error is that the "bees" sound effect loops for a while in some or all of these arcs when it plays.
To patch each arc, simply drag and drop the files from each patch to its matching game folder.
Optional Patches
Note: to use EITHER of these experience patches on Higurashi Kai (arcs 5, 6, 7, 8) you MUST add the Kaibrid patches to the game folders, which reverts their engine version back to that of Higurashi 1-4.
Follow the instructions in each README file to use the patches.
Remove the Corner UI
The corner UI is a little menu that MangaGamer added, made of spare assets from one of their other games. To remove it, first open the game, enter the Config menu, and at the bottom, set Function of Right Click to Call Menu, and close the game. Then, download this and drop its files into your game folder. Note that this mod will make auto mode impossible to enter, and be sure not to change that config option back.
Use a Different Font
Some readers disliked the Courier New font that was used in the old release, so this patch was made. I quite like the font originally used, so I have not tested this patch myself in any way.
In Closing
After you have read arcs 1-8, you may then read Higurashi no Naku Koro ni Rei--also called the 9th arc--as an epilogue of sorts. It has fortunately never been officially localised, and there exist two translation patches for it: the former translating only the main story of it, and the latter being only a machine translation. I do plan to retranslate it at some point down the line.
Worth noting in English discussions of Higurashi is that MangaGamer erroneously referred to arcs (also called episodes or scenarios) as "chapters", which causes much confusion when talking about the sections of the game inbetween each intermission.
It would be very easy to patch the music and sounds in the new release of Higurashi without 07th-Mod, as it amounts to no more than replacing OGG files. I am not interested in doing so, but if you happen to replace the files in a manner faithful to the original Higurashi track/SFX placement, feel free to send the patches my way, and I will distribute them and add them to this guide.